38th ANNUAL CONFERENCE & TABLETOP EXHIBITION



REGISTRATION INFORMATION

Scroll down or click the links below for full details: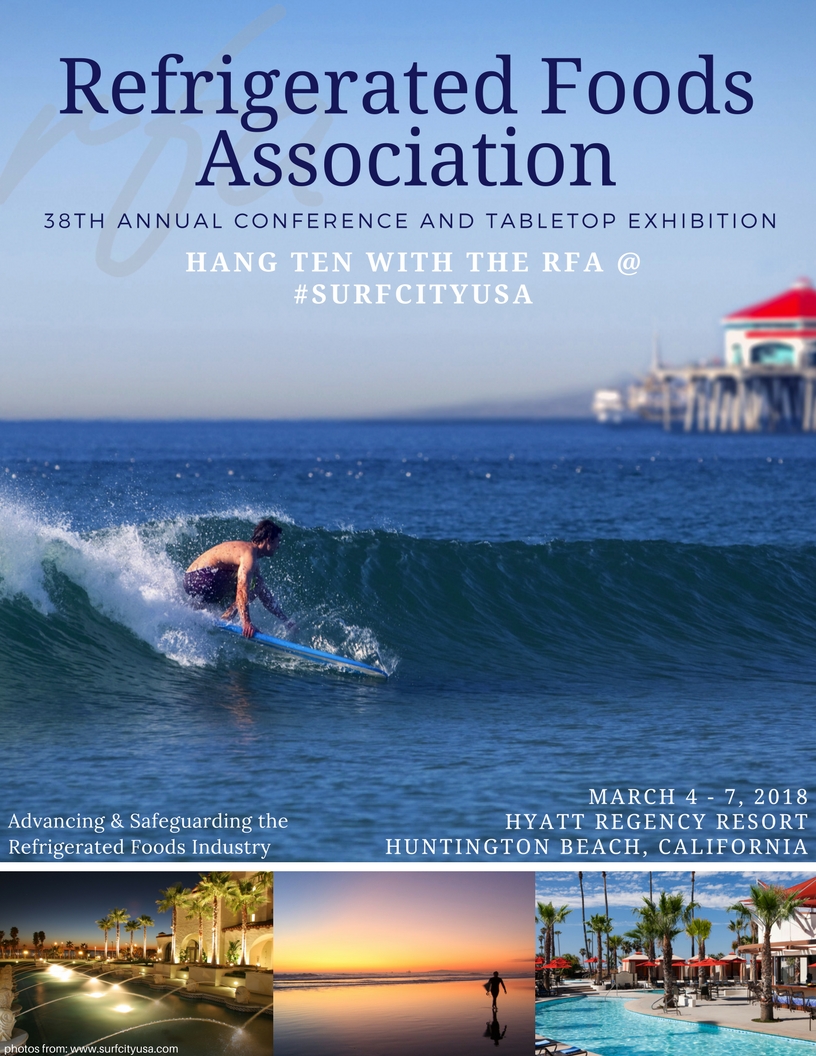 Download the 2018 Conference Brochure
Conference Registration Fees
Who Should Attend & Why
Message from Keynote Speaker, Mike Abrashoff
Registration Confirmation
Cancellation Policy
How to Register
Printable Registration Form
Hotel Reservations
Transportation
Golf Tournament
RFA Tabletop Exhibition
Testimonials from 2017 Conference
RFA Sponsorship Opportunities
YOU CAN'T AFFORD TO MISS OUT ON ALL THIS!!! REGISTER TODAY!!!
---
Conference Registration Fees
Please complete the individual attendee information on the registration form and calculate the appropriate registration fees for
all attendees below. The registration fee includes admission to all general sessions, scheduled receptions, breakfasts, lunches,
dinners, and the Tabletop reception. Guests must pay the full guest registration fee to attend all events. Fee will be refunded
if registration is cancelled prior to February 16, 2018. Deadline for early registration is February 2, 2018. Registration form and
payment must be received in the RFA office by February 2, 2018, in order to receive the early registration fee discount.

Conference Registration Fees are as follows: (Please note there is a discounted registration fee for payments made by check)
For RFA Members: The Conference early registration fee must be received by February 2, 2018 and is $925. The discounted rate for check payments is $895. After February 2, the rate is $1,025 discounted to $995 for check payments.

For RFA Guests: The Conference early registration fee is $825, discounted to $795 for check payments if received before
February 2. After February 2, the registration fee is $925, discounted to $895 for check payments.

For Non-Members: The Conference registration fee is $1,125, discounted for check payments to $1,095.

Guests can purchase individual tickets to attend Tuesday evening's banquet and entertainment for $200 per person.
Company sponsorships of $5,000 or more are eligible to receive one complimentary registration (basic registration fee only). Please contact the RFA Office if you have questions.
---
Who should attend the Conference:
Why?
Build valuable relationships and network with the leaders of the industry

Learn about the current trends in chilled foods

Stay ahead of the learning curve

Find out what regulatory issues affect your business

Get practical, up-to-the-minute food safety information

Be inspired by motivational speakers and talking to others in your field

See the newest offerings in ingredients, packaging, equipment and services

Enjoy sunshine and fun at social events, tours and golf tournament
---
Registration Confirmation
Three weeks prior to the conference, you will receive a written confirmation and other conference information.
---
Cancellation Policy
Cancellations made by February 16, 2018, will receive a full refund. Cancellations made after February 16th or "no shows"
will not receive a refund. You can transfer your registration to another person within your company at any time.
---
How to Register
NON-MEMBERS: Download PDF Registration Form

RFA MEMBERS: There are three ways to register for the 2018 RFA Annual Conference:
1. Register for the RFA Conference online!

2. Download a 2018 Conference Registration Form and email it to the RFA Office at info@refrigeratedfoods.org if paying
by credit card.
3. Download a 2018 Conference Registration Form and mail the form with your check to:
Refrigerated Foods Association, 3823 Roswell Road, Suite 208, Marietta, GA 30062 or fax to 678-550-4504

---
Hotel Reservations
The Hyatt Regency, Huntington Beach Resort is the RFA's host hotel. All conference sessions and events will be held at the Hyatt Regency, Huntington Beach Resort.
To make room reservations, please use this link: https://aws.passkey.com/go/fridgefoodsassn Or call the Hyatt Regency Resort at 714-698-1234 and ask for reservations, or call 800-233-1234. Identify yourself as a RFA Conference attendee to receive a special room rate of $265 plus tax for single or double occupancy, plus $5/night resort fee. The deadline for room reservations is February 2, 2018.
If you require room reservations outside our Conference dates, please call the hotel to make your reservations instead of using the online reservation system.
Please note: the RFA does NOT use third parties for reservations - please do not give your information to anyone who calls you!
To learn more about the Hyatt Regency, Huntington Beach Resort, click here.
---
Transportation

Orange County Airport (SNA) is 20 minutes from the hotel by car. Long Beach Airport (LGB) is approximately 30 minutes away. Los Angeles International Airport (LAX) is approximately 45 minutes by car (but plan extra time for traffic).

You can rent a car from Avis Transportation. The RFA's Avis Worldwide Discount (AWD)
Number is J095952. Please use this number when calling Avis directly at 1-800-331-1600 to receive the
best car rental rates available. Valet parking at the hotel is $37 plus tax per day.
Uber and Lyft cars are readily available at all the airports and cost approximately $20 from SNA, $25 from LGB and $60 from LAX (one way).
---
Golf Tournament

The RFA Golf Tournament will be held on Tuesday, March 6, 2018, at Tustin Ranch Golf Club. The fee is $240 and includes shuttle service to the course, prizes, green fee, cart fee, GPS, range balls, and a boxed lunch. Please note on the registration form if you need rental clubs - the fee is $55 plus tax. Clubs will be available for rent from the pro shop prior to the start of the tournament. The tournament will tee off with a shotgun start at 1:00 p.m. The dress code states collared shirts only, and shorts are permissable. Only soft spikes or tennis shoes are allowed on the course.
---
Other Optional Activities on Tuesday
For non-golfers, we have several exciting activities to choose from! Technical folks can attend the Technical Committee Meeting & Lunch featuring a speaker, and all are invited to tour Certified Laboratories after the meeting (20 minutes from the resort). Transportation will be provided for those wishing to tour the labs from 2:00-5:00 pm.
A visit to the Aquarium of the Pacific will be offered on Tuesday afternoon, departing the hotel at 1:00 and returning at 6:00 pm. Transportation and admission are included in the additional $125 fee. This activity requires a minimum of 20 participants.
A service project has been organized to benefit Second Harvest Food Bank of Orange County. Volunteers will assemble hygiene kits at the hotel, which will be distributed to families, children, seniors and the working poor in the local area. This event will run 1:00-2:00 pm at the hotel.
---
Tabletops
This year's Tabletop Reception will be held on Monday, March 5, 2018, from 3:30-6:30 p.m., with cocktails and hors d'oeuvres being served. It will take place onsite a the Hyatt Regency Resort. Click here for the Tabletop Brochure & Application. For additional questions, please contact the RFA office at (678) 426-8175.
---
Sponsorship Opportunities
There are a number of Sponsorship Opportunities available during the RFA's 38th Annual Conference & Tabletop Exhibition. You can gain exposure for your company by sponsoring social events, educational sessions, networking events, promotional items or golf tournament activities. Sponsorship opportunities can be found here. For questions, please contact the RFA office at (678) 426-8175.
---